A Valuable Experience for You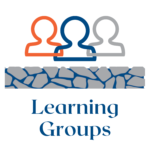 The cornerstone of our Network, a Fieldstone Learning Group provides you with an exceptional opportunity to further your skills in leading a nonprofit organization or team while developing trusted and supportive relationships with other professionals in the sector.
The Learning Groups encourage dynamic and candid exchange among nonprofit executives and provide access to:
Experienced facilitators with deep knowledge and insights about the distinctive characteristics and dynamics of nonprofit organizations, and the skills to foster collective wisdom and fellowship.
Relevant tools and research on nonprofit management and leadership,
An exchange of real case studies guided by a problem-solving methodology that empowers the participants to envision feasible solutions and craft action plans,
An intimate and confidential environment to support and enhance your leadership,
A new network of colleagues with a common purpose – to support each other's leadership beyond the program.
Facilitated Discussion on Relevant Subjects
Each module is designed to enhance your understanding of the vital leadership competencies necessary for nonprofit leaders. Monthly discussion topics are based on state-of-the-art leadership and management research and grounded through the practitioner's lens for an effective blend of theory and real-world experience. Topics include:
Problem Solving
Leading Through Crisis and in a Post-Pandemic World
Diversity, Equity and Inclusion
Team Development and Multi-Generational Leadership
Conflict Resolution and Persuasion
Board Governance and Development
Time Management and Delegation
Strategic Formation
Organizational Sustainability
Fundamentals of Leadership and Management
Experienced Facilitators From the Sector
Our facilitators have a unique combination of proven experience, knowledge, skills, and passion. They are respected executives and consultants in the social sector who share an enthusiasm to impact other nonprofit leaders by sharing their talents, experience, and mistakes. We are proud to work with our facilitators: