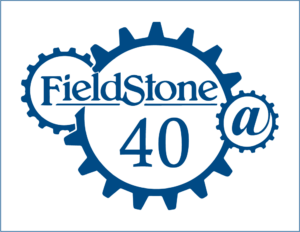 In our 40th anniversary year, we are pleased to bring this beloved community building program back to our Network. On hiatus due to Covid-19, we have re-branded the series FIELDSTONE@40 in honor of our milestone year. Fieldstone@40 is a quarterly program which provides a communal experience for nonprofit leaders to come together for fellowship and knowledge.
Fieldstone@40 was inspired by the work of author Ray Oldenburg who, after extensive research, coined the concept of a "third place." Oldenburg identified one's "first place" as the home and one's "second place" as the office or work site. He defined "third places" as anchors of community life that facilitate and foster broader, more creative interaction. Based on this framework, we have designed Fieldstone@40 as a "community living room", a space where we exchange ideas, have a good time, and build relationships.
Because we understand that the impact of our leadership is limited if we do not have trusted relationships with colleagues with whom we can collaborate, each Fieldstone@40 gathering is purposely crafted as a forum to give and receive mutual support, facilitate wisdom sharing, encourage robust conversations, and inspire brainstorming. Fieldstone@40 is offered to our Network members as a meaningful opportunity to engage with others in a space that cultivates the relationship and peer learning that must accompany the theoretical learning necessary to lead well.