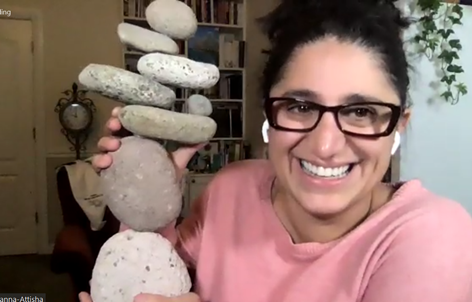 Author's Insights 2020: Dr. Mona Hanna-Attisha
Dr. Mona Hanna-Attisha joined Fieldstone Leadership Network San Diego for Author's Insights 2020. Author's Insights is part of our Leadership Reading Group program and is an opportunity for members of our Reading Group Program to delve more deeply into leadership concepts with an author whose book was read in the program.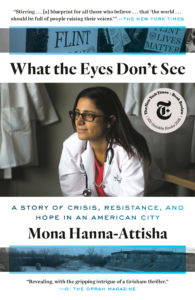 A 2018 New York Times 100 Notable Book, NPR Science Friday Best Science Book of 2018, and 2019 Michigan Notable Book, Dr. Hanna-Attisha's bestselling and widely acclaimed book What the Eyes Don't See: A Story of Crisis, Resistance, and Hope in an American City is a riveting, beautifully rendered account of a shameful disaster that became a tale of activism and hope. It's the story of a city on the ropes that came together to fight for justice, self-determination, and the right to build a better world for their—and all of our—children.

Recognized for her leadership, Mona Hanna-Attisha, MD, MPH, FAAP serves as the founder and director of the Michigan State University and Hurley Children's Hospital Pediatric Public Health Initiative, an innovative and model public health program in Flint, Michigan. A pediatrician, scientist, activist and author, Dr. Hanna-Attisha has testified twice before the United States Congress, awarded the Freedom of Expression Courage Award by PEN America, and named one of Time magazine's 100 Most Influential People in the World for her role in uncovering the Flint Water Crisis and leading recovery efforts. She has appeared on CNN, MSNBC, BBC and countless other media outlets championing the cause of children in Flint and beyond. She is the founding donor of the Flint Child Health and Development Fund (flintkids.org).
During her time with us, Dr. Mona spoke about the need for leaders to work in collaboration with each other and to be mindful not to become siloed in their efforts.  She reminded leaders that this work requires constant attention to networking, trust and relationship building.  Dr. Mona shared her "why" and encourage our leaders to take the time to identify and understand their own "why" and then, to stay connected to it every day in a way that will propel one to do the right thing even when it is hard and uncomfortable. The conversation with Dr. Mona was facilitated by our founder, Janine Mason, and focused on many of the values of the Network, including reciprocity, trust, belonging and continual learning.  
This was the first Author's Insights that was held online.  The program was carefully designed to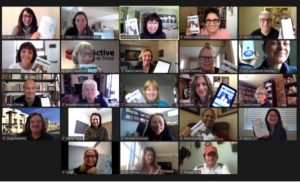 create a community feel and as much personal interaction as possible.  Members were able to interact with Dr. Mona and ask questions as part of the program.  Much of the program feedback  focused on how hopeful and inspired members felt after hearing from Dr. Mona. "This was good medicine" was the how one participant captured the event.  Other leaders commented that the time was "enlightening and motivating".
Dr. Mona and FLNSD share a practice of using poetry as a teaching tool.  Featured in the first chapter of her book, she tells the story of the poem by Bertolt Brecht "A Worker's Speech to a Doctor"  (1938) and how she uses it to help her residents understand that underlying causes can harm and impact patients. Dr. Mona believes we can't serve people or causes without first understanding history and its broad implications on the present situation. This is a key leadership capacity for both doctors and nonprofit leaders.  Each Network member received a copy of this poem to remind them of this lesson.  Dr. Mona also has her residents visit nonprofit organizations to further expand their community knowledge of services and challenges.  As part of our discussion, the group explored ways nonprofit leaders and medical professionals can continue to work together to support neighborhoods.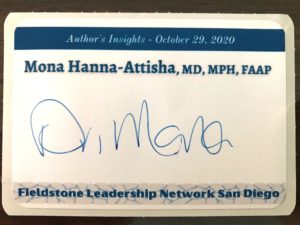 Having our books signed by our guest author is a tradition at Author's Insights and we weren't about to let COVID-19 put an end to this practice. Much gratitude goes to Dr. Mona for generously signing book plates for all in attendance so they may add it to their own copy of What the Eyes Don't See: A Story of Crisis, Resistance, and Hope in an American City
In gratitude to Dr. Mona, we presented her a Fieldstone Cairn.  Our hope it that each time she sees it, it will remind her of our appreciation and our support as she continues to mark a path of true, authentic and communal leadership for all. 
FLNSD is currently hosting five leadership reading groups.  The next group will begin in September 2021 with registration in Spring 2021.  For more information, visit the program tab on our website.