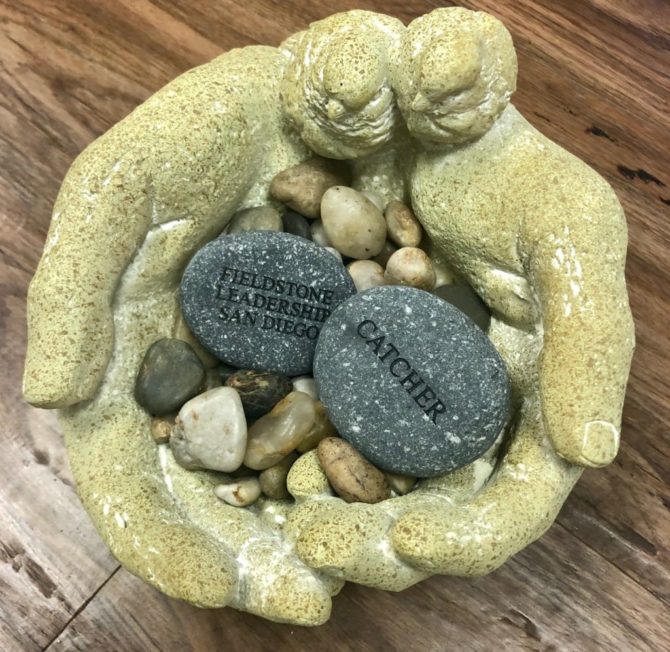 A Community of Stone Catchers
STONE CATCHER:  (n) A person with power and privilege who stands between those who cast stones and those who are daily injured by a politics of injustice, inequity, hate and violence.  An accomplice in advancing social justice.  An anti-racist.   
Last month, Fieldstone Leadership Network San Diego announced a new program called Project Stone Catcher.  Created in response to the growing call for nonprofit leaders to work toward a more diverse sector and a more equitable society, Project Stone Catcher aims to nurture a community of stone catchers who trust each other, offer support to one another and provide safe space for exploration and discussion of issues that have historically been difficult to discuss so we are better able to work for social justice. The name of the program is inspired by Bryan Stevenson, founder of the Equal Justice Initiative and author of  the book Just Mercy.
A companion piece to this program, is a fieldstone etched with the word "CATCHER".  The stone was unveiled on June 4th as part of the premier Project Stone Catcher program, an online leadership discussion with Scott Budnick.  Budnick is the Executive Producer of the movie "Just Mercy" and the founder of the Anti-Recidivism Coalition.  Facilitated by Lee Ann Kim, Budnick addressed many of the leadership concepts that we use in our work—from vision to courage to self care to knowing your own strengths and weaknesses and surrounding yourself with good people. During the discussion, Scott also highlighted several organizations that are working for social justice in his comments, including the organizations that he founded: OneCommunity LLC and the Anti Recidivism Coalition. Links to these organizations and other resources that were discussed or raised as part of the chat can be found on our website.  
The hope is the "Catcher" stone will serve as a reminder of one's commitment to catching stones, especially during hard times and to help one to identify others who also working in solidarity as Stone Catchers.  Leaders are encouraged to put their stone where they and others can see it.  This way, it might generate curiosity from others and provide stone catchers the opportunity to share the story of the stone and invite others to join our work for social justice.  
The "CATCHER" joins a collection of stones crafted by FLNSD to encourage nonprofit leaders as they work.  Other stones include the words LEAD, COURAGE and GRATEFUL.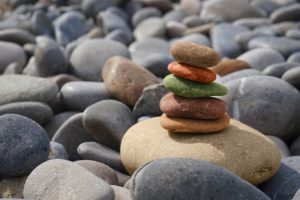 FLNSD often uses the symbol of the cairn to illustrate the work of leaders.  Cairns are the rock formations found all over the world and used by travelers to mark a path, help one find their way and encourage one to keep going on their journey.  With these stones, FLNSD is providing  gentle reminders of encouragement to Network Members while allowing them to build personal cairns to mark the way for those they lead. 
As part of the leadership discussion with Scott and in support of the work of FLNSD and the Anti Recidivism Coalition, "Catcher" stones are available for a small donation through June 25th  using this link.