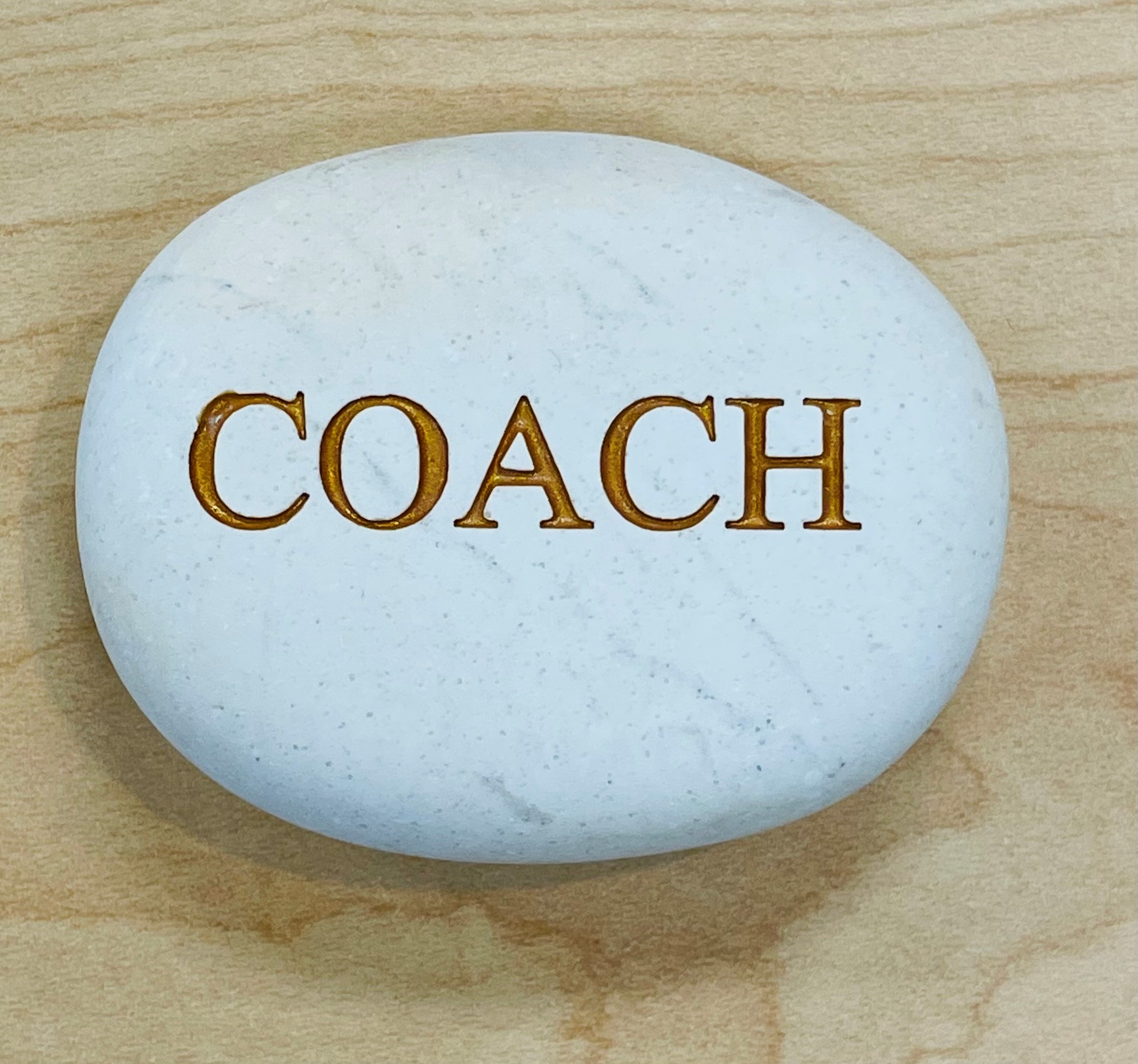 Fieldstone Coaches Gather to Wrap Up 2022 and Prepare for 2023
Meeting Kicks off 40th Anniversary Celebration
December means many things to many people.  At Fieldstone, it means the wrapping up of multiple year-long coaching partnerships and the beginning of another round.  This culminates at a year-end meeting, which was held at the Fieldstone Leadership Network offices on December 6, 2022.  Thirty nonprofit leaders joined Founder, Janine Mason, for a full day of updates, matching and celebration.
Fieldstone Coaches- Setting the Gold Standard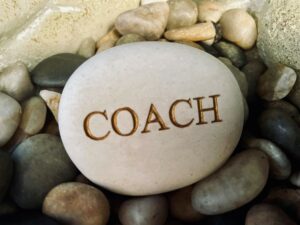 2022 coaches were presented with Fieldstone's new COACH stone.  As described by Mason, the hope is that this momento will remind our coaches of our gratitude as well as their call to  use their skills and knowledge to coach the people in their lives.   The white stone is engraved in gold to represent "the gold standard" set by Fieldstone Coaches.
New and Existing Coaches Come Together
This was the first meeting of our entire coaching team since the completion of our latest training in November.  The group came together easily and the camaraderie in the room was evident as the existing (we prefer not to call them "old") coaches welcomed the new coaches into the fold.  New connections were made as old relationships were renewed.  One new collaboration was in discussion.  It was a vibrant time that truly represented what Fieldstone is all about.
Milestone Gift – Holding Space
Because of their role, Fieldstone Coaches are often referred to as "shadow staff".  As coaches, they represent Fieldstone, our values and leadership philosophies.  As such, it was only fitting to use this meeting to kick off our 40th anniversary celebration by celebrating them in a significant way.
Recognizing the main role of a coach is to hold space for another, Janine Mason commissioned "Holding Space", a piece of pottery inspired by the commitment of our coaches and facilitators to hold space for nonprofit leaders through the Fieldstone Leadership Network San Diego. Each piece was handcrafted and individually made by Kay Pere in Mystic, Connecticut to represent the unique nature of each leader. 
"Holding Space" is a low, open vessel with a soft, natural copper colored glaze on its outside surface. The foundation of each piece is a rounded gray Fieldstone, which provides a solid base for the bowl while symbolizing the individual commitment to and collective nature of the Network. 
The interior surface of the vessel reveals concentric circles to illustrate the progression of continuous learning, offering hospitality, and building trust with each other. Bathed in various colored glazes, the resulting patterns of each piece are varied to reflect the adaptive and distinctive styles of Fieldstone coaches.  
The bowl conveys the hallmarks of the Fieldstone Leadership Network San Diego: reciprocity, strength, resourcefulness, balance, and a sense of community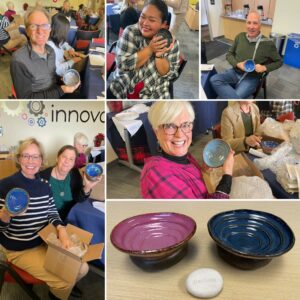 "When there are no words, use art", was how Mason referred to her efforts to share her deep appreciation to Fieldstone Coaches, many who have served in this volunteer role for 27 years, the entire life of the program!  Others have served for 10, 15 or 18 years!  As words did not seem adequate to convey the magnitude of gratitude or impact the coaches have made through their work as a peer coach, Mason worked with Pere to give the gift of art to each coach.  The reaction and response from the coaches was special to watch as each one was clearly touched by the thoughtfulness and symbolism of the bowl. As John Malashock shared, "no one holds space like Janine Mason and to be gifted these works of art was very special".
A Coaching Family
Shirley Cole has served as a Fieldstone Coach for 27 years.  She helped Mason develop the program in the mid-90s and has never left the program, even after she retired as the CEO of North County Lifeline 16 years ago!  2022 was her last year coaching as she plans to travel extensively in the future and will not be geographically available to meet with leaders on a regular basis.  Shirley was recognized for her great contribution to the program at our December meeting.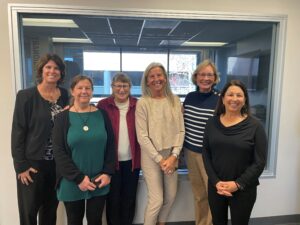 One indicator of Shirley's success, is the number of leaders she coached who are now serving as Fieldstone Coaches.  Deb Martin, ElderHelp; Sue Schaffner, Serving Seniors, Deborah Salzer, Playwrights Project Founder (retired), Sharon Lawrence, California CASA Association and Karen Terra, Emilio Nares Foundation were all coached by Shirley and now, in the spirit of our value of reciprocity, give back to the program and the sector by serving as a coach.  These are powerful ripples of impact as each of these five coaches have gone on to share their knowledge and wisdom with the leaders they have subsequently coached.
Coaching is a foundational program in our Network, made possible by the generosity of nonprofit leaders to share their wisdom, experience and time with other nonprofit professionals who are working to develop their own leadership capacity and meet organizational challenges.  We are indebted to those who accept the invitation to serve as a Fieldstone Coach and we are honored by those leaders who choose to be coached by us and trust us with their professional development.  Coupled with our 40th anniversary, it was all worthy of a special celebration this year.
To date, Fieldstone has coached over 300 nonprofit leaders in San Diego.  The 12-month program includes a 360 Degree Review and monthly coaching sessions.  Registration begins in the Fall for a January start. For more information on Fieldstone's Coaching Program, visit the program tab on our website.