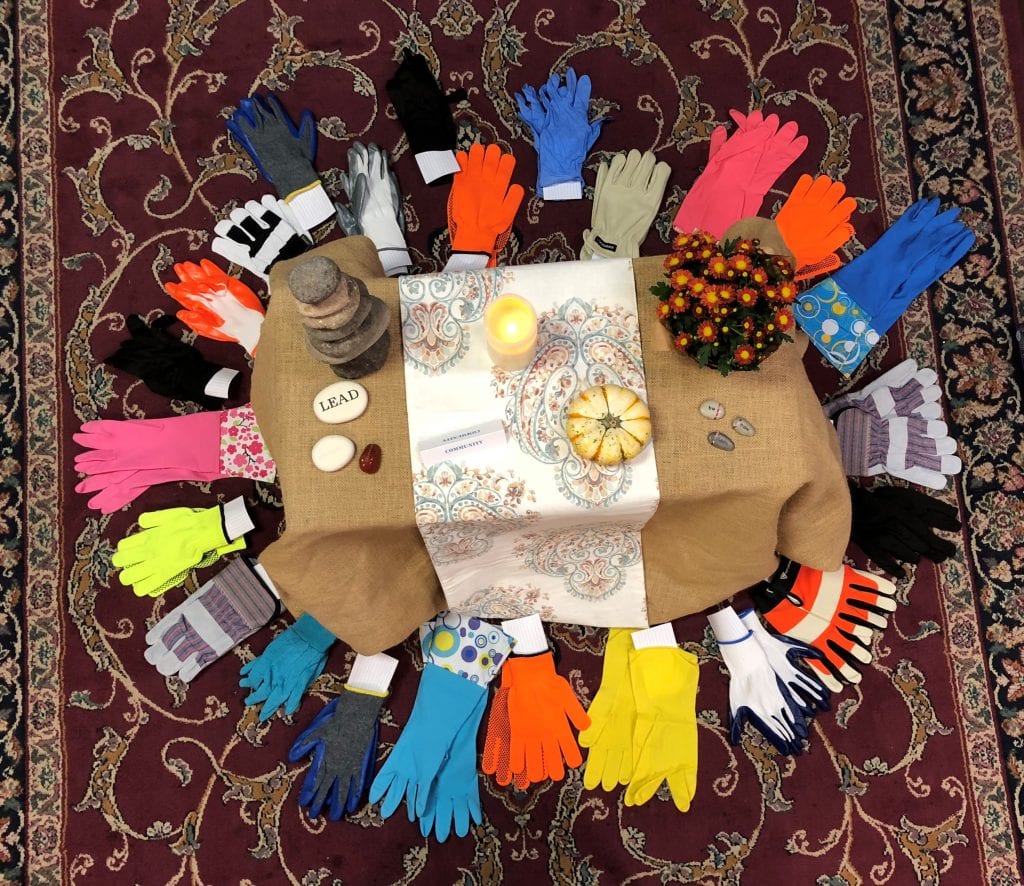 Courageous Leaders on Retreat
Courage has nothing to do with our determination to be great. 

It has to do with what we decide in that moment when we are called upon to be more.  

Rita Dove 
In these turbulent and challenging times, leaders often need courage to stay true to deeply held values amid the complexity of roles and responsibilities.  For those who serve our communities, it's especially crucial that there is time and space to renew spirits, reflect on purpose and reignite the passion that underlies the work.  Recognizing this need, FLN offered a three day leadership retreat called The Courage Way: Fortifying Nonprofit Leaders.  Last week, 24 nonprofit leaders gathered in Malibu for this unique professional and personal development experience.
Designed to provide meaningful opportunities for individual learning and group reflection as well as space for leaders to slow down and move at a different pace, Serra Retreat Center, perched above the Pacific Ocean, provided breathtaking views and quiet spaces to support the intentionality of the retreat's goals.  Led by facilitators Janine Mason and Sue Carter Kahl, leaders were provided with tools and time to explore the connection of who they are with what they do.  While reflecting on their "true work", time and space were also provided for leaders to build relationships with other leaders and to take time for themselves.  The grounds offered plenty of walking paths and a labyrinth to complement and encourage the work.
"The learnings and fellowship of the retreat were life changing and deep beyond measure" according to Scott Larson, CEO of HomeAid OC.    Carolyn Zollars of the San Diego Botanic Gardens concurred saying "I am so grateful to have been able to step away from my "every day" work to participate.  I look forward to implementing better ways to interact with my team members and fellow leaders going forward. " Janie Wolicki Best of WHW in Orange County summed up her experience by saying; the retreat is "an amazing program to help nonprofit leaders to have courage, to be centered and to recharge".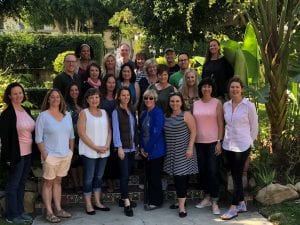 Participants in the retreat were, as pictured above,  Back row– Vanessa Davis, Just in Time for Foster Youth; Michelle Ginn, Carlsbad Education Foundation; Kevin O'Neill, SAY San Diego; Lisa Wood, Casa Teresa; Gil Brady, Nativity Prep; Third Row – Scott Larson, HomeAid OC; Nadia Babayi, Laguna Beach Seniors; Teresa Stivers, Walden Family Services; Mia Roseberry, Wounded Warrior Homes; Joe Buehrle, SAY San Diego; Kristianne Kurner, New Village Arts; Second Row – Cat Corral, TransenDANCE; Natalie Julien, Thomas House Family Shelter; Janie Wolicki Best, WHW; Carolyn Zollars, SD Botanic Gardens; Front Row – Sue Carter Kahl, Facilitator, Bonnie Benitez, Consumer Attorneys of SD; Sheila Romanski, Crystal Roses; Sonay Caruso, FLN; Nancy Batterman, Options for All; Wendy Weeks, Youth Employment Services; Janine Mason, FLN & Facilitator; and Trina Hester, KPBS.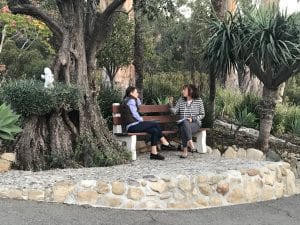 The retreat was based on the Circle of Trust approach developed by Parker Palmer and the Center for Courage and Renewal.  Trained and certified as facilitators, Sue and Janine, created a "safe space" that welcomed the soul to show up.  In solitude, and large-and-small group discussions, leaders were invited to reflect deeply using poetry, nature, art and various wisdom traditions as guides.  The retreat also included training on asking honest, open-ended questions.  This training culminated with each leader participating in a Clearness Committee, a process of discernment that lets one hear their inner voice and wisdom.  It was the capstone of the retreat experience.
Leadership Retreats are offered as part of the Fieldstone Leadership Network's continuum of programs to support nonprofit leadership in Orange and San Diego Counties.  The retreat is offered bi-annually.  For more information, visit  https://fieldstoneleadershipsd.org/leadership-retreat    
and watch this short video on our November retreat  https://www.youtube.com/watch?v=wImR6a8q4rk