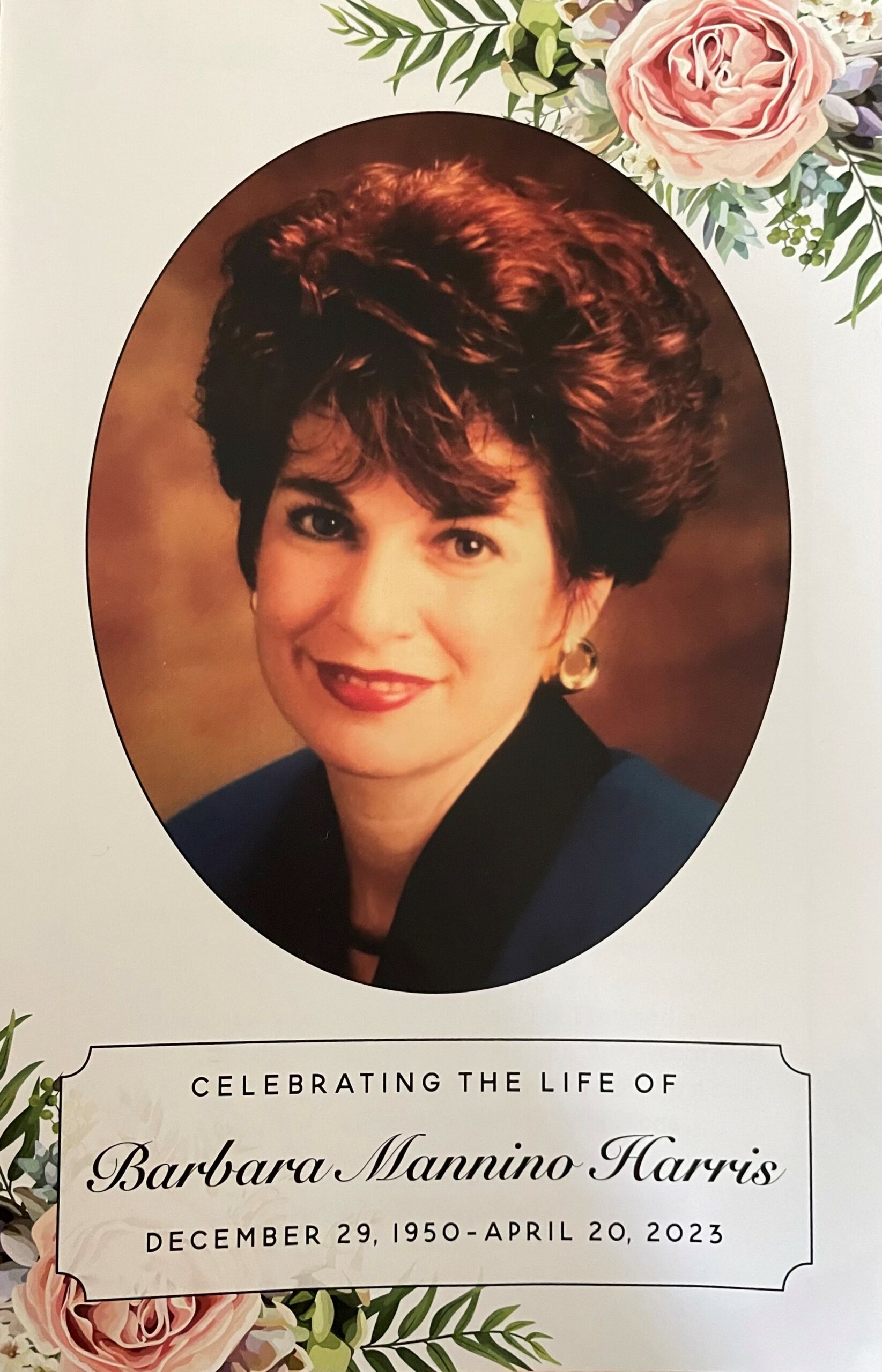 Celebrating the Life of Barbara Mannino Harris
Barbara served as the CEO of Vista Community Clinic for 30 years. During her tenure, she grew the organization from a staff of 30 with a $500,000 budget and one site to a $35 million budget with 530 employees and five state of the art medical facilities.  Barbara was an inaugural member of the Fieldstone Leadership Network and served as a coach for us for over 25 years. She passed away on April 20, 2023 after a devastatingly fast battle with lung cancer.  A celebration of her life was held at Vista's Civic Center on July 15th.  Janine was honored to be part of the team of people to offer a eulogy as part of the service.  Her tribute is below.  The family invites anyone wanting to honor Barbara by supporting one of her passions to consider a gift to the San Diego Humane  Society www.sdhumane.org 
Remembering Barbara
Good afternoon. My name is Janine Mason and I am the founder of the Fieldstone Leadership Network.  An organization with a mission to support nonprofit professionals in developing their personal leadership capacity and to building trusted relationships throughout the sector. Barbara and I met in the late 80s, early in her tenure at VCC and early in my career at Fieldstone. We quickly became friends and met together regularly. We shared family photos and I watched her daughter, and then grandchildren, grow up and she watched my son too. Our special place was Pacifica Del Mar and I can't go there without thinking back to those seemingly ordinary lunches that have now become treasured memories. Barbara was there when I became the Executive Director of Fieldstone Foundation and was always at the ready to be a sounding board and give me sage advice – advice that I still think back on decades later.
Barbara was a member of Fieldstone's first Executive Learning Group. Shortly after that program ended, I asked her if she would serve as a Fieldstone Coach and to mentor other nonprofit leaders by sharing her knowledge and experience.  Now you have to remember, in the early 90s, coaching was mainly a sports term.  But, she graciously agreed, trained to become a Fieldstone Coach and had served continuously in this role with us since those very early days of the program. She blessed her coachees, she had over 25 of them, with her time and wisdom and they were better leaders because of her investment in them. And our Network was better.  But most importantly, so was, is, our community.  To give you a sampling of her reach, in her time with us, Barbara worked with leaders of
Regional Taskforce on the Homeless
San Diego Public Library Foundation
Seuss Foundation
New Village Arts
BIPOC Support Foundation and
Habitat for Humanity.
Her reach was deep and touches almost every part of our community infrastructure.  Every day, as these organizations, and other, carry out their missions, Barbara is there.
John Buchan said, "the task of leadership is not to put greatness into people, but to illicit it because it is already there". This quote has a hallowed place on each leadership certificate we give out because we believe it to be true.  Barbara did too, that is why she committed so diligently to supporting others.  She had the title and the skills of a leader  but most importantly, she had the heart of a leader which called her to serve people and help them to learn to become the best version of themselves- To illicit the greatness that she knew they processed and that she recognized in them.  And she was generous, as she did this in her organization, in her community and in our sector.  She cheered us on, believed in us until we believed in ourselves, helped us succeed and realize our visions.   And in between, she sometimes got us to adopt a new furry family member.
It can be hard to remember the early days of creating the Network, mainly because we didn't know at the time that it would grow into a Network at all.  It was simply a series of individual programs and an additional activity to accompany our grantmaking.  It grew into a Network and to date, we have served thousands of nonprofit professionals across our region with critical and affordable leadership support.  I have always believed our success was due to the early adopters who trusted us and said "yes" to our invitation to join us and then helped us create what we now understand the Network to be. Barbara was one of these early adopters and she was foundational in this work and her participation helped to give us credibility at an important time. This natural act for her to join and contribute, led to a huge ripple effect throughout San Diego County that continues to this day. Every time Fieldstone helps a nonprofit leader and their organization, Barbara's fingerprints are there.  I will always be grateful to her for her investment in and commitment to us.
Even after she retired from VCC. She continued to coach through December of last year. She had every intention to coach this year, but life had other plans for us. Thank goodness we had the chance to celebrate together at our gathering last December. I trust Barbara felt appreciated by me and her fellow Fieldstone coaches.  I trust she knew she was a critical part of our family and that we loved her. Because we did.
American writer Brian Andreas once said, "It is still so new and all we see is the empty space, but that is not how it is in the landscape of the heart. There, there is no empty space and she still laughs and grapples with ideas and plans and nods wisely with each of us in turn. We are proud to have known her. We are proud to have called her friend." I know Barbara will remain with me, with the Network, and with those she coached on Fieldstone's behalf. I believe she will be with us as we grapple and make plans for what comes next. And I know she will be nodding and cheering us on as we continue to support each other in answering the call to lead and to help each other to do it well.
Thank you, Barbara.  May the blessing that you were to so many be returned to you as eternal peace.