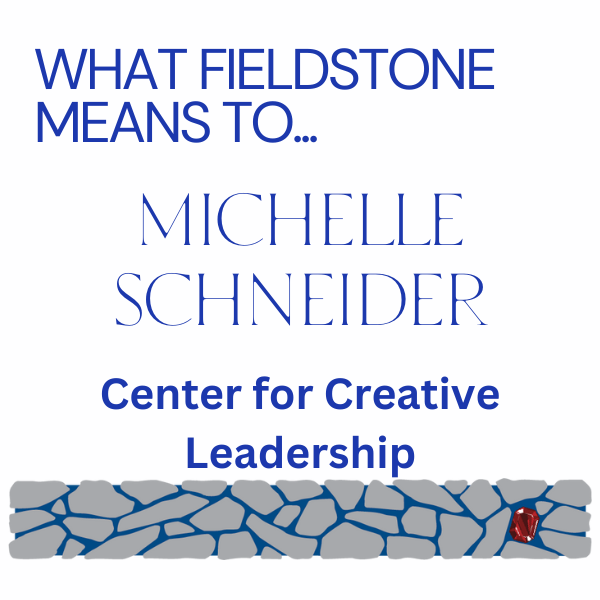 A Powerful Collective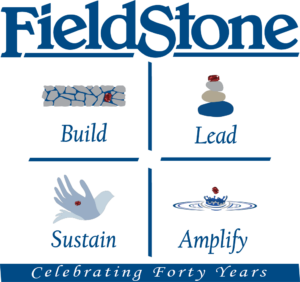 It is hard to believe it's been almost 20 years since I first heard about Fieldstone at a social gathering. I still remember the conversation vividly, listening to a San Diego nonprofit ED describe feeling so supported, talk fondly about the community she was part of, and how Fieldstone had recently helped her navigate a significant expansion at her organization  I remember driving home that evening and in true When Harry Met Sally fashion (I'm dating myself here, I know), thinking 'I want what she has' as someone who was both fairly new to San Diego and a new executive director – not an easy undertaking at the same time, especially without a support system.
Still, I wondered if Fieldstone was one of those exclusive, invite-only networking kind of groups that was not for me. It took one call with Janine to realize Fieldstone was anything but that; I could not believe there was an organization whose mission was to support my development, build the capacity of my organization, and strengthen our sector.
I always tell people that I have been fortunate to wear so many Fieldstone hats over the years. While in my role as an ED, I participated in an executive learning group, had two coaches, attended Courage to Lead retreats, was a regular at Fieldstone at 4s, and provided my team with the same opportunities. After leaving my ED role and going back to school, I continued to be involved through the book club and serving as an evaluator for the Clare Rose Sabbatical program. As anyone might imagine, over the last 20 years, I have worked through significant professional celebrations, challenges, losses and transitions, as well very personal ones. And, in looking back, there is one constant thread that has run throughout that time and that's Fieldstone. And I cannot name Fieldstone without naming Janine. Truly, I do not know how I would have gotten through some of those challenges without support from my colleagues and support from Janine.
There are so many leadership lessons I have learned over the years from being involved with Fieldstone but in this moment, I am particularly grateful to Fieldstone for helping me learn how to do the following:
Lead in the both/and: Sure, I'll always be a work in progress, but being introduced to the work of Parker Palmer and life on the mobius strip helped me understand just how stuck I used to be either/or thinking. I am grateful to live and lead now as a more whole person, drawing from my many skills, experiences, values, and identities. In fact, I still carry a letter I wrote to myself in 2007 at a Fieldstone retreat as an artifact and reminder of my values.
Rest in community:  Until coming to Fieldstone, I did not realize how little time I had for thinking and how tired so many of my colleagues were, including me. Having the opportunity to be vulnerable and to learn and reflect together in learning groups and retreats made me realize the restorative power of community. All these years later, I know that when I make time to rest in my trusted Fieldstone community (some of whom, I've known for 10+ years), I am more aligned with my values, bring a better version of myself to my work, and generate some of my best ideas.
Communicate beyond talking:  I can still remember hearing a colleague read William Stafford's poem 'The Way it Is' at a Fieldstone event and the hair standing up on my arms because the poem helped click into place a better understanding of my purpose and the challenges I was facing.  Fieldstone's additional offerings to leaders in the form of music, nature walks, and mindful practice have become my antidotes when talking is not enough to navigate paradox, sit with complexity, and not get paralyzed. I have realized these things plus my love for making are not hobbies, they are inextricably linked to who I am as a leader and the work I want to do in the world.
Deepen my commitment to the nonprofit sector: Although I chose to leave my ED role 10 years ago, my work in our sector is far from over. Having the opportunity to serve as an evaluator for the Clare Rose Sabbatical program gave me a sightline into the deep need and desire to advocate for greater investments in all nonprofit leaders – which has led to the focus of my dissertation and my role at the Center for Creative Leadership supporting the research and evaluation needs of current nonprofit clients and partners.
So, in the spirit of lesson #3, I have folded forty cranes for Fieldstone's 40th as part of my mindful practice that my Japanese/Ainu grandmother taught me when I was a young girl.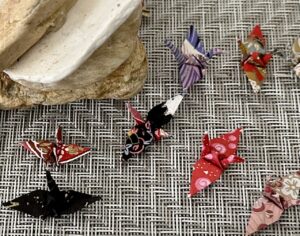 When I zoom in and look at each crane, I think of each of us Fieldstone leaders and the organizations we represent and how we lead better, and our organizations are stronger in part, because of Fieldstone.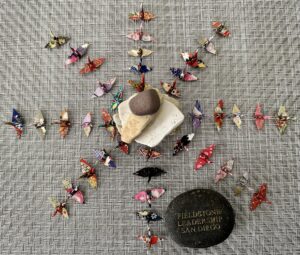 But when I zoom out, I realize what is happening at our individual level and organizational level, ripples out. And I can see an even more beautiful and complete picture. I see a network that is not always visible – a powerful collective, and ultimately a stronger community that can better make lasting change for everyone.
To my fellow Fieldstone colleagues, I invite you to both zoom in and zoom out. What do you see? What connections do you make?
Michelle Q. Schneider, Center for Creative Leadership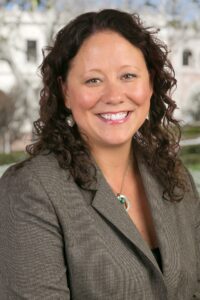 Michelle has 20+ years of academic and practitioner experience in nonprofit leadership and management, leader development, research and evaluation. She served the nonprofit sector in various leadership capacities, including as an AmeriCorps VISTA volunteer, donor, program coordinator, program director, board member, consultant, and ten years as an executive director for a San Diego-based national nonprofit organization. She is currently a PhD candidate in Leadership Studies with a focus on Nonprofit and Philanthropic Leadership and her research examines how developmental experiences on-the-job impact leadership development. While completing her doctoral coursework, she served as a Doctoral Research Assistant at The Nonprofit Institute at the University of San Diego, where she provided client-focused research and evaluation services for leading-edge nonprofits in the San Diego and Orange County regions. She is also a certified leadership coach and maintains a small coaching practice working specifically with nonprofit women leaders. She has presented her own research at both academic conferences and practitioner events, and has presented multiple workshops on Investing in People is a Win-Win-Win for Funders, Nonprofit Leaders, and their Organizations. She currently works for the Center for Creative Leadership, whose mission is to advance the understanding, practice, and development of leadership for the benefit of society worldwide.  There, she works in the Societal Impact group where she serves as a Senior Evaluation Associate, specifically leading the evaluation design, data collection, analysis and reporting/visualization for nonprofit clients who are interested in understanding the impact of leadership development initiatives. She is also very passionate about equity, diversity and inclusion internally and externally, and as such, also serve as a co-lead for CCL's LGBTQ+ Employee Resource Group (ERG).   
She earned her bachelor's degree at Cornell University and her Master's degree in Nonprofit Leadership and Management at the University of San Diego, where she is also a PhD candidate in a Leadership Studies doctoral program with a focus on Nonprofit and Philanthropic Leadership. 
Each week during our 40th anniversary year, a member of our Network will share what Fieldstone means to them and how being a part of this learning and leadership community has impacted them and the work they do to serve the community.
If you have a story you would like to contribute to our collection, please contact Janine Mason.