2022: That's a Wrap!
Year End Report Reflects Success
2022 has proven to be a rich and full year for the Fieldstone Leadership Network San Diego.  During the past year, we hosted Learning Groups, Leadership Reading Groups and a Learning Circle.  We facilitated multiple offerings of The Equity Journey and one offering of Coaching as a Leadership Tool, as well as Creative Encounters by Fieldstone for a local nonprofit's staff and board of directors.  We coached a dozen nonprofit leaders and trained 10 nonprofit leaders as Fieldstone coaches. We provided four Clare Rose Sabbaticals.   Through our survey instruments we learned that across all of our programs:
100% would recommend our programs to others
98% say the programs met or exceeded their expectations
90% would like to continue to learn with FLNSD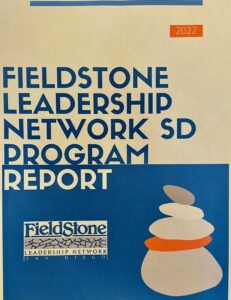 We continue to use data to judge the alignment of our strategy against our results.  With a focus on Strengthening Leaders, Building Organization Capacity and Sustaining a Vibrant Network, we evaluate each program on its ability to impact each of these focus areas in a positive and meaningful way.
In 2022, we learned:
Leaders Strengthened – we served 178 individuals this year.
100% of program participants say they developed as a leader through our programs

77% developed/further developed systemic thinking in their leadership practice
78% increased their appreciation for interdisciplinary/peer learning
98% addressed a significant problem or challenge
93% strengthened their ability to solve problems as a leader
Organizations Capacity Increased – we served leaders from 106 different organizations
99% of participants report an increase in the capacity/effectiveness of their organization

55% strengthened relationships with board / improved board governance
63% developed strategies to manage staff more effectively
53% increased my or my organization's collaboration with other leaders/organizations
Networks Developed and Relationships Created
94% saw impacts to their professional network

85% gained valuable insights form leaders outside their organizations' subsector
78% offered and/or received resources from other nonprofit leaders
66% increased the overall diversity of their networks, 58% increased their network multi-generationally
2023 Brings 40th Anniversary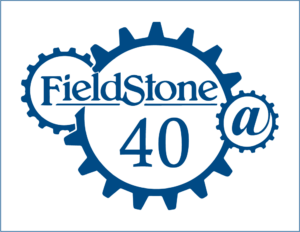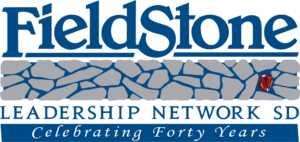 2023 is our 40th anniversary year.  We have planned a full year of program offerings, including Fieldstone@40, which will start on March 15, 2023 at the Downtown Central Public Library.  Our website reflects our all of our offerings, including a big anniversary celebration planned for June.  We hope you will plan to join us for this momentous occasion!