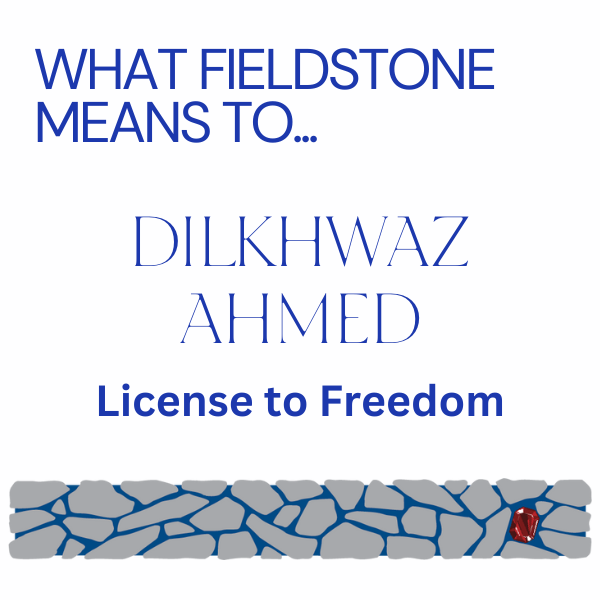 Offered Me the Gift of Believing in Humanity Again

My journey with Fieldstone Leadership Network really started when I participated in the six-month executive learning group. This training fundamentally impacted the way I view myself, my organization, License to Freedom (LTF), and the future that LTF can have. I believe anyone can benefit from the executive learning group. One of the biggest takeaways from the training affected my personal life almost as much, if not more, than my professional life. FLNSD taught us to practice disconnecting ourselves from the work—something that I think many leaders who have grown their organizations from the beginning are not accustomed to when they're in positions that directly impact the well-being of others, both professionally and in our personal lives.
I believe it's important for anyone to learn the skill of holding objectivity. Through the Fieldstone
Executive Learning group, I started practicing looking at LTF not only as my personal project, but as an objective observer; the improvements I was able to make by considering LTF objectively would not have occurred had I not been able to disconnect. Now, LTF is flourishing–we are serving more clients than ever, we are receiving more grant money, and we've been able to expand our team. The expansion of the team at LTF continues to provide me with support that I didn't know was available. We were able to hire a Program Manager and individual leads for each of our programs–FLNSD taught me that sometimes it's better to let other people take responsibility, and that it's okay for me to trust the work of others. I think smaller nonprofits might be intimidated to take the steps necessary to expand their staff, because it means more money expended and greater trust in others. I know it was difficult for me. To others that are worried about the impact of hiring, I would tell them that the adage is true; sometimes you have to spend money to make money. Now that I have more time to spend with my family and friends, being present and disconnected from work–I can say with clarity that the outcomes you receive for trusting others are greater than the fear stopping you.
As a member of the FLNSD, I've seen this to be true of my fellow nonprofit leaders. The network has been instrumental in connecting all of us and helping us support one another as we develop our newly learned leadership skills and increase the capacities of our organizations. One
of the greatest resources being part of the Network offers is the support from the other directors. We are able to ask each other for advice, offer insight on available office spaces, recommend grant writers, and write letters of recommendation. I have also found it to be indispensable to be on this journey with others experiencing the same changes. We might be advocating for different causes, but we are joined in our belief that if you can help, you should.
Perhaps, however, the most impactful effect I've experienced, has been the soul-affirming recognition that there are so many other beautiful leaders dedicated to helping the community. The ability to become so immersed in your own cause, forgetting that others are fighting
alongside you is sadly far too easy. Getting to know Fieldstone Leaders offered me the gift of believing in humanity again. I am encouraged by each and every leader that attended this training. The knowledge that this network exists and will support me when I make mistakes, or
will encourage me when I become uncomfortable with change, and above all share my belief in a greater, more positive world, has changed the way I think about myself and the work that I do.
Dilkhwaz Ahmed, MS., Executive Director, License to Freedom
Dilkhwaz is the founder and Executive Director of License to Freedom.  LTF's mission is to promote peaceful, loving, and safe relationships within the diverse immigrant and refugee communities of San Diego. This is accomplished through services and strategies that build resilience and self-sufficiency, support healing from trauma and violence, and advocacy for equity and justice. 
Dilkhwaz Ahmed is an immigrant women rights' activist from the Kurdistan region of Iraq. In Iraq, she served as the Executive Director of the Nawa Center, a shelter for abused women in Sulaimanya. In 2002, Ms. Ahmed was granted asylum in the United States, resettling in San Diego.  In 2003, Ms. Ahmed cofounded License to Freedom, helping more than 5,000 refugee and immigrant adult survivors and child victims of domestic violence.  Ms. Ahmed is a voice of immigrant women, having walked in their shoes and understanding what it means to be an immigrant.
Dilkhwaz graduated from Fieldstone's Executive Learning Group and is scheduled to go on a Clare Rose Sabbatical in Spring 2023.
Each week during our 40th anniversary year, a member of our Network will share what Fieldstone means to them and how being a part of this learning and leadership community has impacted them and the work they do to serve the community.
If you have a story you would like to contribute to our collection, please contact Janine Mason.