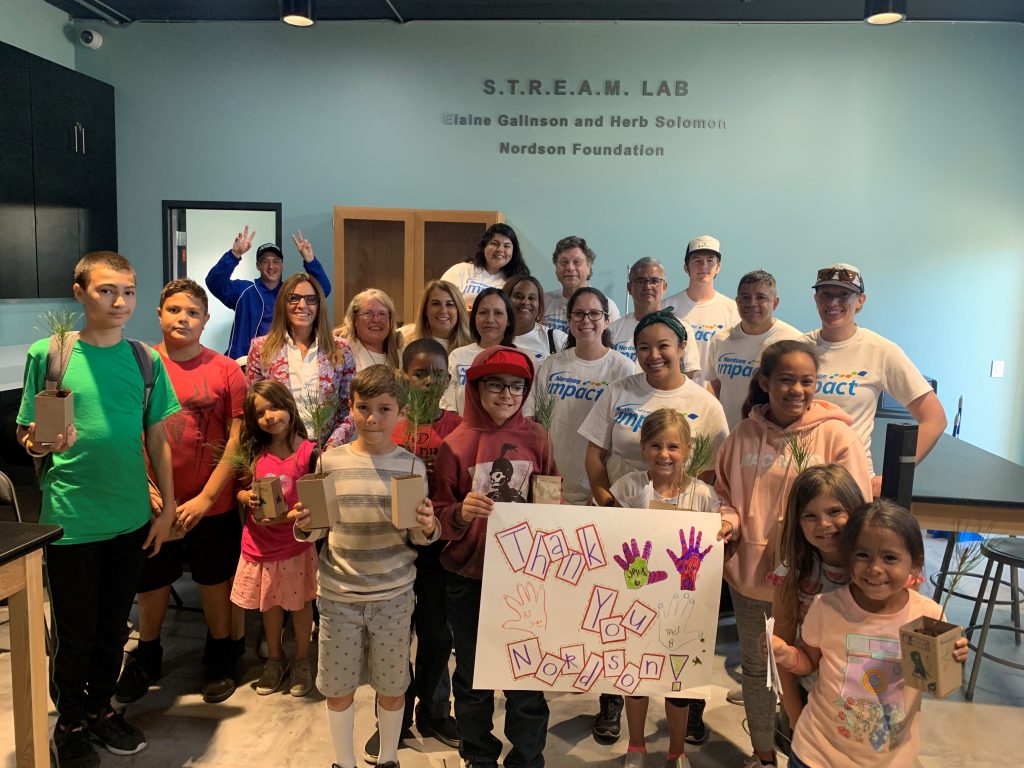 Builders of the Field – Nordson Corporation Foundation
Builders of the Field highlights philanthropic leaders who financially partner with the Network to support our work in the nonprofit community.  This month we are delighted to feature our friends at Nordson Corporation Foundation.

Nordson Corporation delivers precision technology solutions to help customers succeed worldwide. They engineer, manufacture and market differentiated products used for dispensing adhesives, coatings, sealants, biomaterials and other materials; for fluid management; for test and inspection; and for UV curing and plasma surface treatment. Founded in 1954 and headquartered in Westlake, Ohio, USA, they have operations and support
offices in more than 30 countries.
Sara Vaz is the Community Relations Manager for the Nordson Corporation Foundation. In her role, she manages all of the Corporate Social Responsibility activities for Nordson in the California and Colorado regions. Sara recently shared her thoughts on partnering with Fieldstone Leadership Network.
Why do you give back to non-profits?
At Nordson, we have a long and proud history of giving back to the communities where we live and work. We strongly believe it is our responsibility as a corporate citizen to share our success with our communities, which is why we donate 5 percent of our U.S. pre-tax profits to support charitable endeavors every year. We pursue and support results-oriented opportunities that prepare individuals for full and equal participation in the economic and social mainstream. We believe these kinds of programs help improve the quality of life over the long term and produce stronger, more enlightened communities in which we live and work. We strive to fulfill these respo
nsibilities in our communities through contributions to charitable activities with a focus on education. Other major giving categories that are supported are human welfare, civic affairs, and arts & culture.
What motivated you to make a gift to the Fieldstone Leadership Network?
We understand that strong nonprofits make stronger communities. We also understand that investment in the professional development of leaders in our nonprofit sector is lacking. We were thrilled to support the Fieldstone Leadership Network in the work they do for our nonprofit leaders and sector. We have heard from many of our nonprofit partners how impactful participation in the Network was for them and we were happy to make this investment.
What impact do you think the Fieldstone Leadership Network makes on our community?
We know that the nonprofit sector fills significant gaps left by the public and private sectors and we rely on the work of these nonprofits to lift-up and strengthen our communities. When nonprofit leaders are empowered and encouraged through rigorous training and support networks like the Fieldstone Leadership Network, our entire community benefits. We are grateful to the Fieldstone Leadership Network for working to motivate and increase the effectiveness of our hardworking nonprofit leaders.