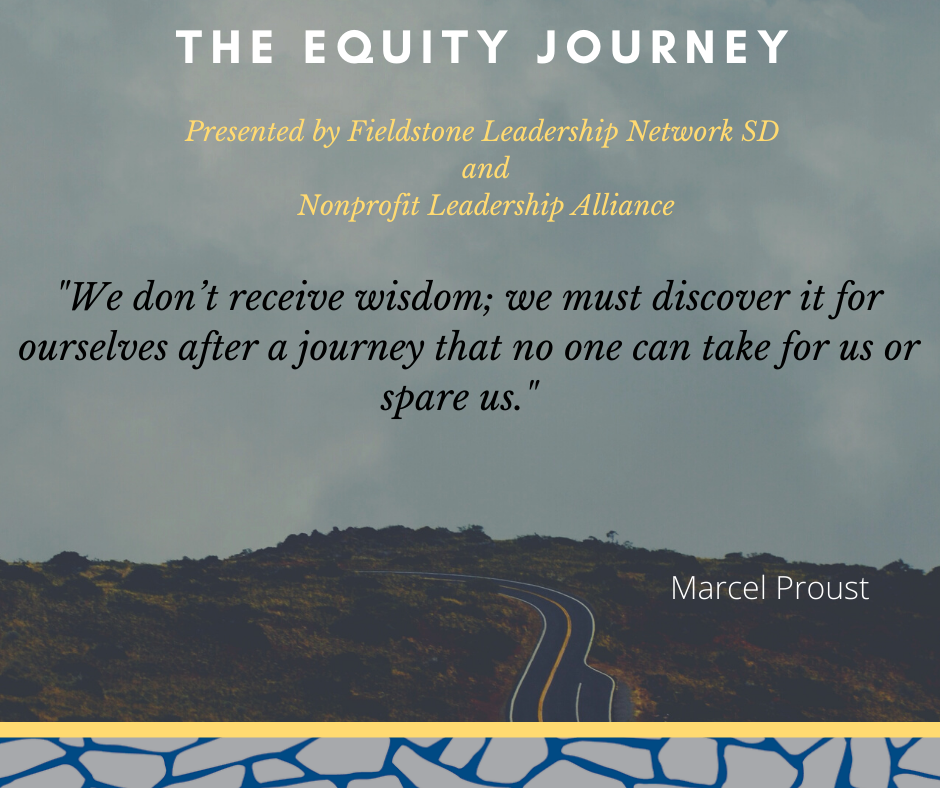 Equity Journey Series Concludes
Over 600 Nonprofit Leaders Participated in The Equity Journey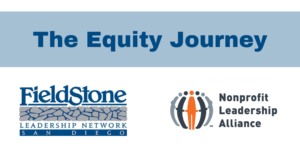 For the past 23 months, Fieldstone Leadership Network has been working with the Nonprofit Leadership Alliance to bring the Equity Journey to local nonprofit leaders.  Since that time, Fieldstone has facilitated each of the three components of the series:
The Equity Journey
Equity Journey 2.0 – Nonprofit and Organizational Success and,
Equity Journey 3.0 – What's Fair? Exploring Social Justice in America
To date, over 600 nonprofit leaders have participated in at least one of the Equity Journey offerings.
The online curriculum was developed by the Nonprofit Leadership Alliance.  In keeping with Fieldstone's peer learning model and in alignment with our mission to foster trusted relationship between nonprofit leaders, Fieldstone Founder, Janine Mason, designed and facilitated Pit Stops on each of the Equity Journey offerings.  Each Pit Stop was hosted on Zoom and lasted for 90 minutes. Pits Stops allowed learners to come together to reflect on the material they were learning individually, share their thoughts, ask questions and hear from others on the Journey.  Survey results indicate 91% gained insights from the Pit Stop discussions. One participant from Equity Journey 2.0, described the Pit Stops  as
"very meaningful; supportive, informative, offering a safe space to explore our thoughts as well as doubts."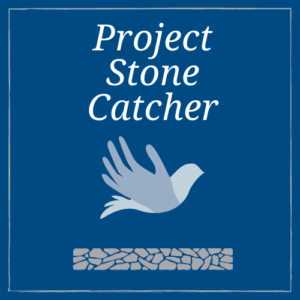 The Equity Journey series was presented as part of Fieldstone's Project Stone Catcher which provides opportunities for nonprofit leaders to develop the skills and understanding necessary to lead nonprofit organizations in the areas of diversity, equity, and inclusion and to advance social justice issues for the broader community. In alignment with our mission, Project Stone Catcher aims to build a community of stone catchers who trust each other, offer support to one another and provide safe space for exploration and discussion of issues that have historically been difficult to discuss. Ninety-one percent of participants reported increased confidence in holding conversations about race and equity as a result their participation in the program.
In addition to an increase in confidence in conversing about race and equity, Learners reported a 97% increase in their understanding of concepts and definitions critical to social justice and 100% of participants reported an increase in their ability to incorporate systemic thinking into their work.  Ninety-one percent of participants reported changes or plans to change the way they work as a result of doing this course.  
In Year 2 of the program offering, Fieldstone was asked by North County Philanthropy Council and Association of Fundraising Professionals San Diego to facilitate the Equity Journey program for their members.  Over 115 members participated in the program. This offering, which included all three of the Equity Journey courses, was underwritten by Nordson Corporation Foundation and Impact Cubed.
Leaders who completed each module with the course and participated in the Pit Stops earned a certificate, which was conferred jointly by Fieldstone and the Nonprofit Leadership Alliance.