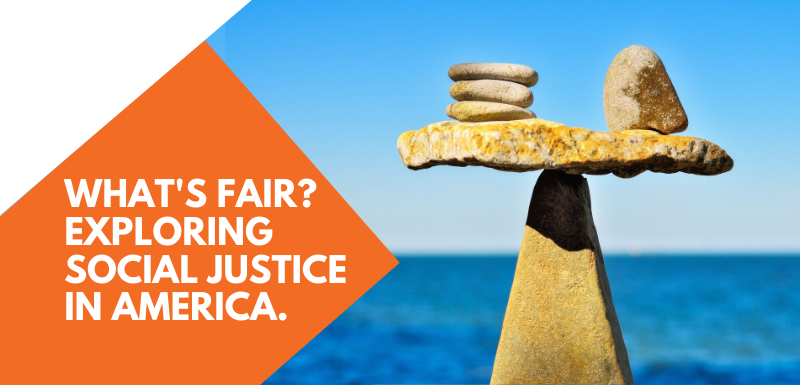 Equity Journey 3.0 Begins
What's Fair? Exploring Social Justice in America
Continuing our partnership with the Nonprofit Leadership Alliance, Fieldstone Leadership Network San Diego opened the third and final course in the Equity Journey series on April 25, 2022.  The online training aims to help nonprofit professionals begin the conversation about social justice in our communities. What's Fair? Exploring social justice in America is powered by the Thought Industries customer training platform.
Learners will explore the meaning of social justice and what it looks like in our world, as well as learn how to advance key issues in their own organizations and communities. Darian Rodriguez Heyman, former executive director of Craigslist Foundation and Co-Founder of GenderSmart, is featured in the virtual session sharing his insights about the social justice movement happening in our world today.
Learners will complete the academic portion of the course individually and come together with other learners in the cohort every two weeks for a facilitated discussion throughout the duration of the program.  Called "Pit Stops", these discussions are unique to Fieldstone's offering of the Equity Journey.  Pit Stops curriculum reflects the online course material and has been curated by our founder, Janine Mason, who also facilitates the discussions.  Pit Stops were included and designed to reflect Fieldstone's values of peer learning, relationship building and reciprocity.  They are hosted online and last for 90 minutes. Past participants have been enthusiastic about the impact of the group discussions, reporting that they help them feel connected to other leaders and to the material as they navigate this Journey and work to increase their confidence in advancing social justice.
"As the people in our communities continue to struggle with what is just and right, our most powerful tool for change is learning more," said Susan Tomlinson Schmidt, CNP President and CEO of The Alliance. "We have to explore our own values and meanings for ideas like social justice and then consider what we can do to change what we think is wrong. Self awareness is the first step in a social justice journey."
"Over the course of the past two years, our world has evolved in significant ways. However, the need for people committed to working toward fairness and justice, those we call "stone catchers", has remained", said Janine Mason, CNP and Founder of Fieldstone Leadership Network San Diego. "We are honored to partner with NLA in bringing  this learning opportunity to San Diego's nonprofit leaders.  We believe that learning about and reflecting on equity and how it does and does not show up in our organizations and communities is vital.  And we believe it will result in our sector working in new ways – ways which center fairness and justice in our organizational policies and procedures and, most importantly, throughout our personal leadership.  Nothing is more important."
Learners who complete the course and participate in the Pit Stop discussions will earn a certificate offered jointly from both organizations. To date, over  600 nonprofit leaders have participated in Equity Journey courses.  Fieldstone Leadership Network San Diego and Nonprofit Leadership Alliance have worked together as partners since 2020.